As you have seen on our website, Boxingholic member Mike had a very 'Boxing summer'.
Despite that the majority of the world and their boxing gyms were shut down, coronavirus situation in Poland was handled relatively well and resulted in trainings and competitions being open.
Mike, who spent the last 7 months in Poland, used the situation to his advantage and managed to fight 4 times. Out of the 4 bouts, he won twice and lost twice. In this article, we will present to you his best performance and according to his Polish coach, a fight against a very tough opponent during which Mike was tested and reached his best.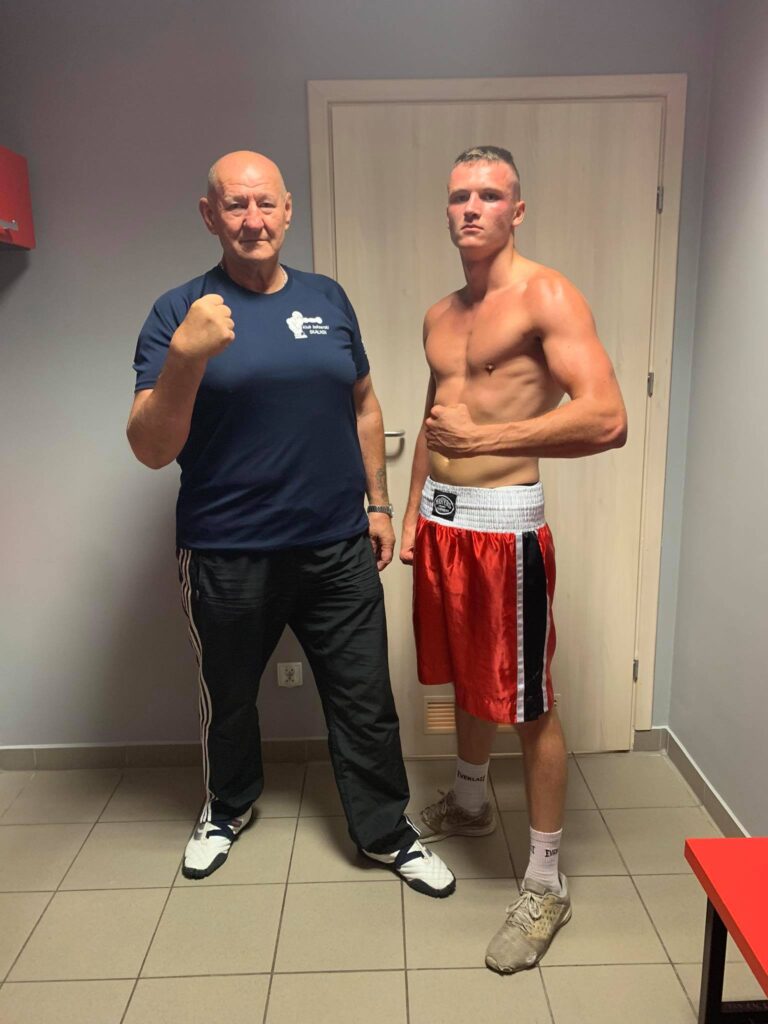 Let's go!
The fight happened at the end of August 2020, at regular weight category of Mike's – 75 kg (Middleweight).
The opponent standing against our fighter was a fighter from a local 'Skarzysko-Kamienna Club'. Mike's rival had definitely more ring experience (19 fights in total) and a slightly better record. From the moment we all walked in to the event location, we could see how confident his rival is and how naturally he felt in the boxing environment.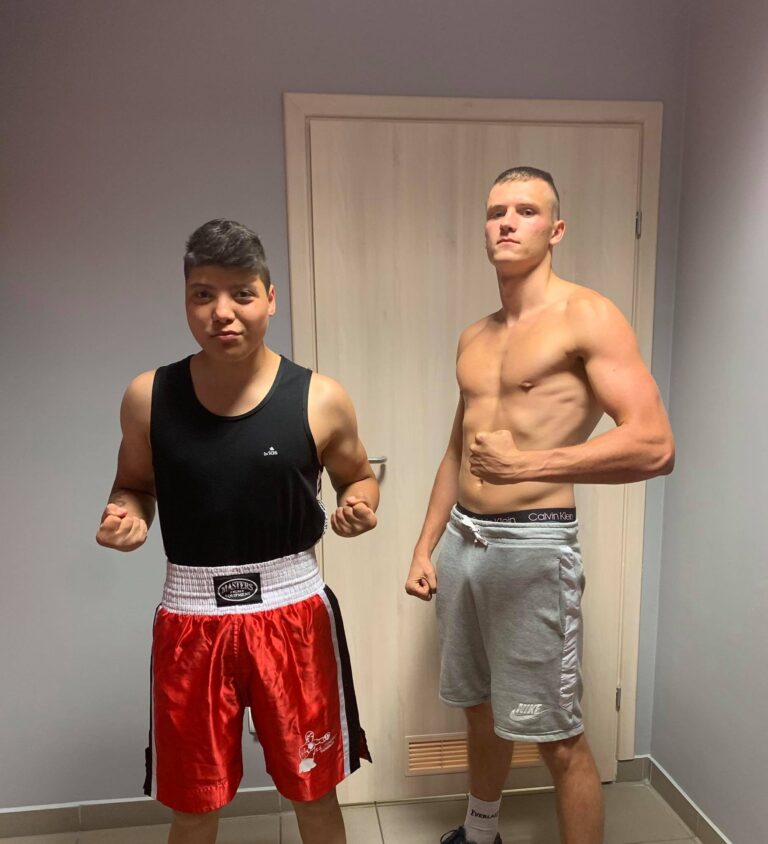 Mike was in a great physical shape, very well-conditioned, fast, and hungry. Prior to the bout, Mike's training concentrated mainly on speed and footwork—main assets of our Polish fighter.
Mike's fight was the last fight of the night. The cherry on top of the cake. We knew that the boys will bring a good performance—we however did not know that they will surprise us that much.
Fight started with a bang.
Both of the fighters genuinely went at it. Mike did not hesitate and went aggressively in, although it was his opponent who landed the first blow.
Mike quickly started dominating in the ring and attacking with series of combos. It was visible that he is in shape and he is coming for the victory, although his opponent, despite being seemingly defensive, also seemed like he is executing his game plan.
In the middle of the round, Mike started having a problem with his range—he could not land a single right hand. All of them were too short to reach his opponent. Possibly that was a thing that gave his opponent the confidence to execute a few dangerous attacks to get Michael first onto the ropes and then to the corner.
The round was equal with slight domination from our fighter, that did enough in the first part of the fight to claim victory in this round.
The second round also started with the bang.
Without a doubt, Mike's opponent was informed by his corner that he was losing the fight and right at the start of the second round, he significantly increased the pace.
He quickly tried to get to the inside and fight taller Michael from close range. At that point, the bout was getting dirty, with loads of pushing, unnecessary punches, and pure aggression from Mike's rival.
In our opinion, this the moment when Mike won this fight. He did not break mentally but managed to get out of the clinch and went in with an aggressive but controlled attack. Mike fought as if he knew he must get back for what just happened.
The beginning of the second minute of the round was very good, both boys went at it, and it was truly a pleasure to watch. At the end of the round, Mike started throwing very effective uppercuts, that visibly hurt his rival.
Round for Mike.
Truly a class round, and a class performance.
Mike's rival tried to clinch, wrestle, and make this fight dirty, but Michael was not interested in that.
In the third round, Mike visibly started breaking his rival—first with a great body-head combination and from that onwards picking him up with 1,2's.
In the middle of the round, Mike attacked his rival with an amazing 10 punch combination that nearly finished off his opponent—at some point our fighter simply lacked stamina and did not manage to finish the opponent off.
The moment Mike slowed down, his rival increased the pace and got caught with a slick right uppercut right on the jaw. The referee, who saw the other fighter in pain, decided to give him an 8-count. After the 8-count there was 15 seconds left.
Here, dear readers, I have to say one thing: respect to both the fighters.
Mike went there to take his head off which demands admiration and his rival instead of shying away and trying to survive the round, also went to fight. Fight ended with an amazing exchange and a wave of applause.
Mike clearly won on points and took another win home.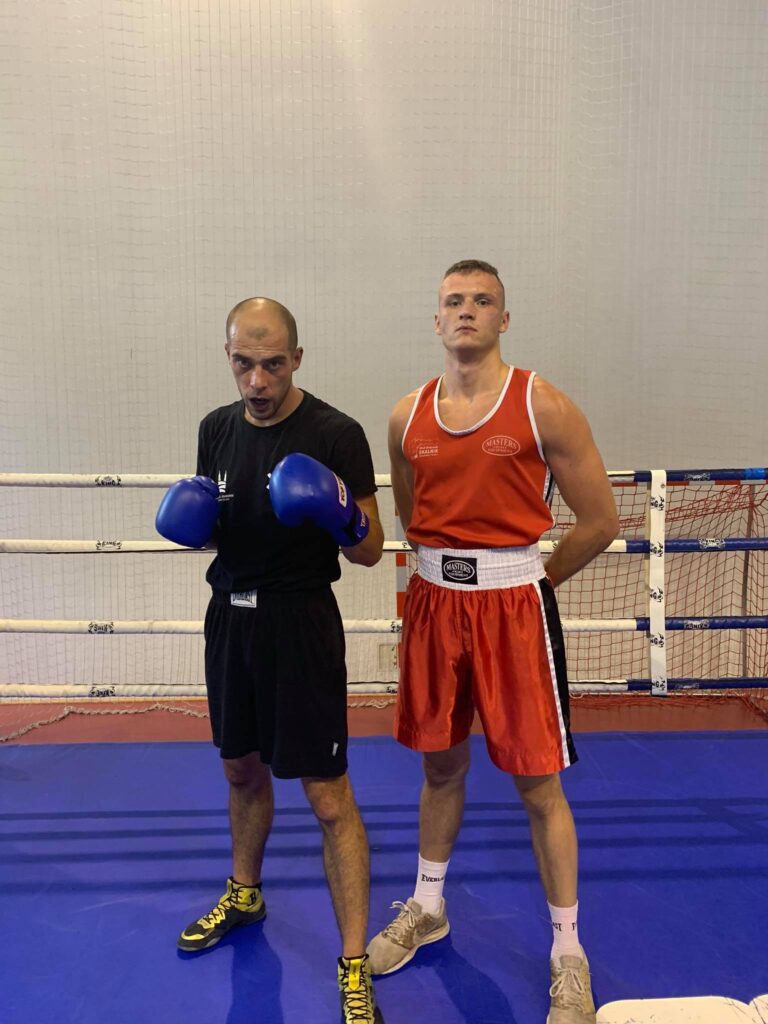 This time instead of talking we would like you to engage in our article in a different way. This time we want you to talk, and particularly type and answer the following questions:
What did you like about the fight the most?
What do you think was the main reason why Mike's opponent lost the fight?
What advice would you give to a) Mike b) his opponent ahead of the third round?
What was the main mistake of Mike during the fight?
What do you think our fighter has to work on ahead of his next competition?
Let us know in the comment section or send your answers to our contact form!