This week we have something special for you!
Last week, one of the founders and main members of the Boxingholic Team—Mike—fought in an amateur competition in Poland.
In this article, we will talk about the fight, its outcome, and the mistakes that were made. All of it will be summed up by the interview conducted with the fighter himself. Check it out!
Skarzysko Cup is the precise name of the competition in which Boxingholic member Mike participated on the 20st of June 2020.
During the night, our fighter fought in a classic 3 x 3-minute rounds against a very slick opponent coming from Skarzysko itself. Jan, his rival, had 33 wins and 6 loses on his record. Our fighter lost on points, winning the first round and losing the next two.
The fight started very well for the Boxingholic fighter. Michael attacked from the first bell and controlled the shorter and slower opponent with his jab.
His rival was taking the damage from left hand and looked for one big punch. In the middle of the first round, Mike hit him with beautiful one-two that finished with left uppercut.
The round was clearly won, although Mike's coach rightfully noticed, that his rival allowed Mike to fight, possibly with the aim of tiring him out.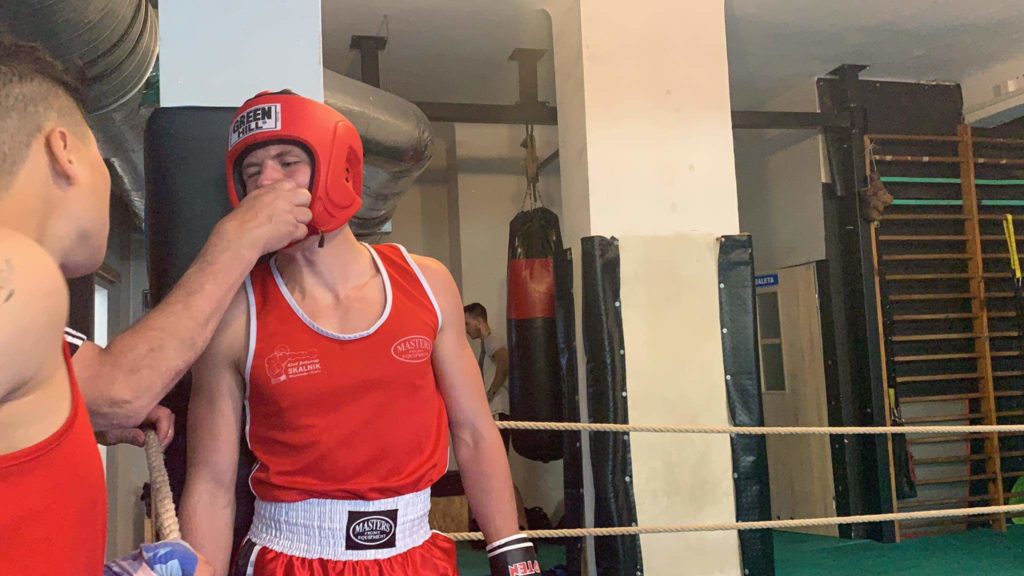 Mike during the 1st Round rest
The beginning of the second round started similarly to the first round.
Mike confidently moved forward and attacked with the jab and straight right hand. Unfortunately, we could see that the pace of our fighter was slowing down, whereas the pace of his opponent was increasing.
In the middle of the round, Mike seemed to lack stamina what was not only noticed but also well used by his opponent.
Because of exhaustion, Michael wasn't able to keep his opponent at distance with his jab, which caused Jan to get inside and cause a lot of damage. From that moment onwards, Mike took a lot of damage, particularly to the body.
After not responding for 15 seconds with any punch, was given an 8 count by the Ukrainian referee.
Despite the good beginning of the round, this round clearly went to Mike's opponent—Jan.
Third round seemed like a hard experience for our fighter.
He was clearly exhausted, and his opponent was pressing hard and looking for a knockout. Mike tried to respond with counter right or a right uppercut while moving backwards, although the attacks of his opponent were leaving more and more damage.
The last minute of the third round, was a pure dominance by Jan, and certainly not the most pleasant experience for Michael. Fight ended with the clear victory for Jan who won 29 to 27 on the Scorecards.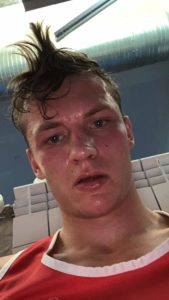 Below, we will conduct a short 5 question interview with Boxingholic member Mike, in which we will ask him main questions concerning the fight:
Q#1: How would you explain the fight's outcome and what do you think was the main mistake you have made?
Michael:
Well, I think that there is no big story in here.
The guy was simply better. Bit better at many things. Bit better movement, bit more experienced, bit stronger, and certainly had better conditioning.
My main mistake was coming out too aggressive and wasting the precious energy during the first round.
He noticed it, waited for me to get tired and used it perfectly. I thought I could control in the first round, but later on I felt fatigued and had to fight him inside, where he naturally dominated.
Q#2: What do you think about the referee giving you an 8-count? Your coach seemed more than unhappy, and we could see that he did not agree with that decision.
Michael:
I don't think I was near any knockdown or knockout and my coach knew it, hence why he reacted the way he did.
I was tired and rested on ropes. My opponent threw punches that did not do much to me, but it is true that I did not respond to them.
Amateurs rules are clear, where when the fighter does not respond, the referee can give him an 8 count.
That's what happened.
When I looked at it on video, it seemed a bit too fast, but it was acceptable decision that I respect and do not have a problem with. 
Q#3: What was the strongest side of your opponent and what surprised you the most?
Michael:
My jab is generally not bad, and I rarely get countered.
What shook me and caused a lot of damage, was that Jan countered my jab with overhand right.
Very crisp and powerful shot. Also, I could not see it coming. I got hit by it at least three, four times. That shot allowed him to get inside and cause a lot of damage.
Q#4: Are you happy with your performance? Why or why not?
Michael:
Well, I fought a better man.
It is always good to be tested, and it is always nice to fight somebody who could teach you something.
I am happy because it was a good lesson. Although, I certainly need to work on my cardio.
My style is quite aggressive and I move forward a lot. I would not say my cardio is bad, but it is just not enough for the way I want to fight. If I wanted to press with the jab or get the opponent to the corner, then I needed to be better prepared. I was not happy with my conditioning.
Q#5: What did your coach tell you after the bout?
Michael:
He was happy with how I performed.
We talked a bit, went to eat pizza, and discussed how the fight went. Not the first time I lost and possibly not the last one.
Sometimes, you face a better guy and that's it. He knew he put me against a big challenge and realized that's how it could end. I took the fight on two days' notice and did my thing.
Michael is a talented fighter, but even a talented fighter like him will experience loss in boxing.
The main takeaway from here is that losing is part of boxing, and so it isn't something to be ashamed about. Instead, use it as a lesson to focus and improve your boxing. 
Even after a loss, you must continue to stay hungry.
Have you competed in a boxing match before? Tell us how it went in the comment section below and what you learned from it! We are always happy to hear stories from boxers all around the world.